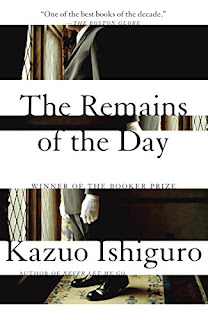 Book cover (paperback)
This is the 1989 book that later became a movie (which I never saw). This won the Booker Prize. We follow a quintessential British Butler named Stevens sometime after World War 2 on a journey to look up an ex-employee. The journey itself is beautifully and descriptively written.
While the main thread is the journey, the bulk of the story is Stevens' recollection of his past. From stories about his father, to many descriptive stories about how professional he is, to his many interactions with both employees of the house, Darlington Hall, and the owners of his house, especially the first one, Lord Darlington.
At its core, this is a sweet story that - having read it four months ago - still sticks with me, and I still think of it occasionally. In some ways, I feel this was a life story of someone who has seen a lot, but not seen anything extraordinary. However, in other ways it is much more expansive than that, in that it deeply explores how being too close to something can keep you from seeing what it really is.
I do recommend this book if you are the kind of person who doesn't mind being haunted by a good story. When I first read the book, it seemed like nothing happened, but it kept coming back to me and I realize now that nothing happened in between the three or four stories that were beautifully told throughout the narrative. If you demand some action, though, this book isn't for you.
This book was recommended to me by a work colleague. I purchased and read it in Kindle format.
Vintage imprint of Knopf Doubleday Publishing Group
Fiction / Drama
Original Release: May 1989, Digital release: 15 Jul 2010.
Digital, 258 pages