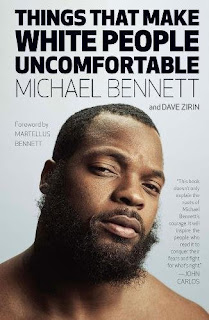 Book cover
"We have got to make the white population uncomfortable, because that is the only way to get their attention." That quote at the start of this book is from Bill Russell in 1964. He was a Basketball player, but also a
civil rights activist
.
I categorize this book as a Memoir, mostly because it follows the narrative flow of a memoir. It starts out introducing the reader to Michael Bennett's childhood on a rural farm in the South, into college through the NFL, and discusses his own discovery of the importance of both support and activism on a number of issues of equality.
However, the point of the book is mostly to openly and honestly talk about racism and equality. The key places where that racism presented itself in Micheal Bennett's life are chronicled here, and show that - instead of
just
getting angry or jaded, he also evolved and became more inclusive in his activism.
The narrative comes from a real place, it feels honest. The most useful parts of this to me were where the author calls himself out. He passes these self-reflections on, as olive branches to the reader; a note that mistakes are learning moments.
I must note that socially, I come from a liberal viewpoint already. There is nothing in this book that I disagreed with, and no major concept that I wasn't already aware of. This book definitely filled me in on a number of details, but didn't have to convince me of a point of view. I could not care much less for sports than I do, but besides that, this book is aimed squarely at me and where I am in life. That is, I care from over here, but I am not an active agent for change.
I have enjoyed this book better than I have any piece of non-fiction in a very long time. It didn't make me uncomfortable, but certainly gives me some pause to think about where I should fit into the scale between caring and actually helping.
I got this book last year at the publisher's booth at BookExpo America. I generally prefer fiction to non-fiction and I didn't really know anything about the author, so this book sat for a long time while I read other things.
Things That Make White People Uncomfortable
Haymarket Books
Memoir
Released: 3 April 2018
Hardcover, 250 pages