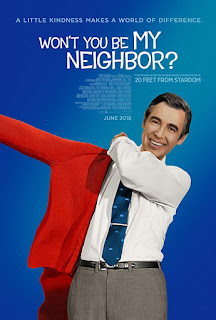 Movie poster
This is a documentary film about Fred McFeely Rogers, who was on a popular children's program called Mister Rogers' Neighborhood from 1968 through 2001. The movie starts his career with a children's show that he produced before Neighborhood, the Children's Corner, though skips his earliest work for NBC.
Won't you be my neighbor is a very well paced, carefully timed, and beautifully edited documentary. It took a relatively small number of interviews with people from his show and life, a healthy portion of interviews from Mister Rogers himself, and a lot of footage from his shows along with just a touch of vacation footage. I learned a lot more than I thought I would.
Watch this movie if you grew up watching this show. Watch this movie if you want to know and understand the link between Public Broadcasting, Children's programming, and Fred Rogers, specifically. Skip it if Mister Rogers' is nothing more than a meme for you. Not everybody watched it, and a lot of recent adults never got a chance to watch it.
I grew up watching the Mister Rogers' Neighborhood show, but it wasn't until his death that I actually started learning anything about Fred Rogers, the person, and I really didn't have the capacity to think about it. I grew up watching his show, and I really didn't know how to deal with the loss. Frankly, I knew it made me sad, but I never knew I actually needed to deal with the loss. I watched this movie on the first weekend in March, and I bawled my eyes out. I think I've just hit the first step in dealing with that loss.
Won't You Be My Neighbor?
Director: Morgan Neville
Documentary
Tremolo Productions
Released: 29 June 2018
Runtime: 94 min.