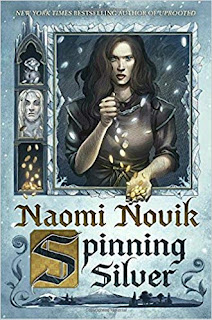 Book cover
This is the second book that I've reviewed by Naomi Novik, the first was
Uprooted
. At a high level, there are some parallels between these books, but they are definitely different worlds. Here's a quick overview of the setting:
A Jewish girl of about 16 named Miryam lives in a medieval small unwalled town with the name of either Pakel or Pavys, but the residents simply called it
town
which is a third of the way between two larger cities in the Kingdom of Lithvas. Year over year, winters in Lithvas are getting longer and growing seasons dangerously short.
Anywhere in the kingdom, but most often in the forest near
town
a magical road of white ice to a winter kingdom of the Staryk will sometimes appear. The road is a magical, almost dimensional, crossing that the Staryk king is able to open. Lithvas itself is not a magical place, but the road and the Staryk kingdom is. The Staryk use the road to pillage Lithvas for gold.
There are three women in this book who are all under-estimated in their own ways, and who all find a greater strength through doing the right thing and not having permission to do so. Three times at the end of the book I wept with pride. The character arcs are strong, and even the villains are mostly sympathetic (one exception).
Read this for strong women kicking ass and getting things done. Content warnings for graphic violence and mention of rape in past context without graphic rape descriptors.
Spinning Silver
Fantasy
Del Rey
imprint of Penguin Random House
Released: 10 July 2018
Hardcover, 480 pages.