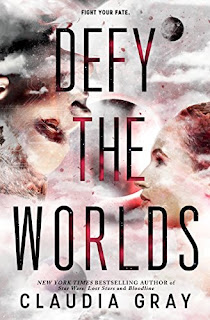 Book cover
This is book 2 of the Defy the Stars trilogy. I recommend first reading my review of
Defy the Stars
before diving headlong into this review. Also, there may be mild spoilers of the first book in this review. I'm not sure that can be helped.
I recommend not reading Defy The Worlds until Defy The Stars has already been read. Like most sequels, this book could stand-alone, but there is not as much exposition and recap as I'm used to reading in sequels. It seems to be more closely written with the expectation that readers will start from book one.
The book starts with Noemi back on Genesis, trying to fit back into military life while dealing with global inquests, and summons to talk with world-leaders, many of whom do not trust her, or her judgement.
Most of the characters from the first book have a part in this second book. The conflicts in this book are more political and far-reaching, and the pacing of action is quick throughout.
In part, due to the abbreviated recaps, and the little space dedicated to explaining the world-building that had occurred in book one, the action in this book picks up very quickly. If this were a stand-alone (or first) book, I would be complaining about this, but it works very well for a second book. Overall, I actually enjoyed this book more than the first one (which is very rare). This has me looking forward to book 3, even more.
I recommended reading this series. At this point, I recommend reading anything by Claudia Gray. Her writing has yet to leave me unsatisfied.
Defy The Worlds
Science-Fiction, Young-Adult
Little, Brown and Company
imprint of Hachette Group
Released: 3 April 2018
Hardcover, 480 pages