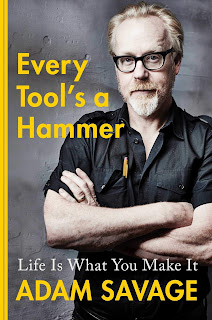 Book Cover
Subtitled, Life is What You Make It, this is a book about making things. It has many, many other components though. It is partly a memoir of the author's career. It is partly a book about management, especially the end of Chapter 4 which covers delegation and the importance of communication. It is also very instructional, in that it prescriptively lays out a number of best practices for making, along with illustrative stories of why these practices are so important.
This book wouldn't be what it is if it were not for who the author is. Adam Savage is best known as the more approachable co-host of Mythbusters, that aired for 14 seasons, but he is also a set designer, prop maker and miniature model builder on
several movies
. Mythbusters was recently rebooted as Mythbusters Jr., and Adam Savage can regularly be seen answering questions and making things on
tested.com
and
YouTube
.
To help show how the book is organized, here is the chapter listing:
Dig Through The Bottom of The Rabbit Hole
Lists
Checkboxes
Use More Cooling Fluid
Deadlines
Drawing
Increase Your Loose Tolerance
Screw > Glue
Share
See Everything, Reach Everything
Cardboard
Hammers, Blades, and Scissors
Sweep Up Every Day
Acknowledgements
Sketchbook
The very beginning of this book defines making as any creative activity. That includes sewing or coding, woodworking or electronics, writing or drawing, in virtual spaces or meat space. To get down to it, I highly recommend this book for a maker (no matter how one defines it) or anyone who really likes Adam Savage. If building stuff is not an interest, then maybe this book isn't either. Reading this book has pushed me back towards making more things (which includes pre-publishing a number of book reviews (I was running low), but also doing some work on my personal web site.
---------------
To my readers (between 4 and 20 of you), feel free to send me a note or leave a comment if you have ideas about things I should add to my reviews, or even if you have a strong opinion about a book that you want me to read and review.
I checked this book out in hardcover from the New York Public Library. This is the first time I've put a brand new book on hold, and ended up getting it in the first round.
Every Book's A Hammer
Instructional
Atria Books imprint of
Simon and Schuster
Released: 7 May 2019
Hardcover, 288 Pages